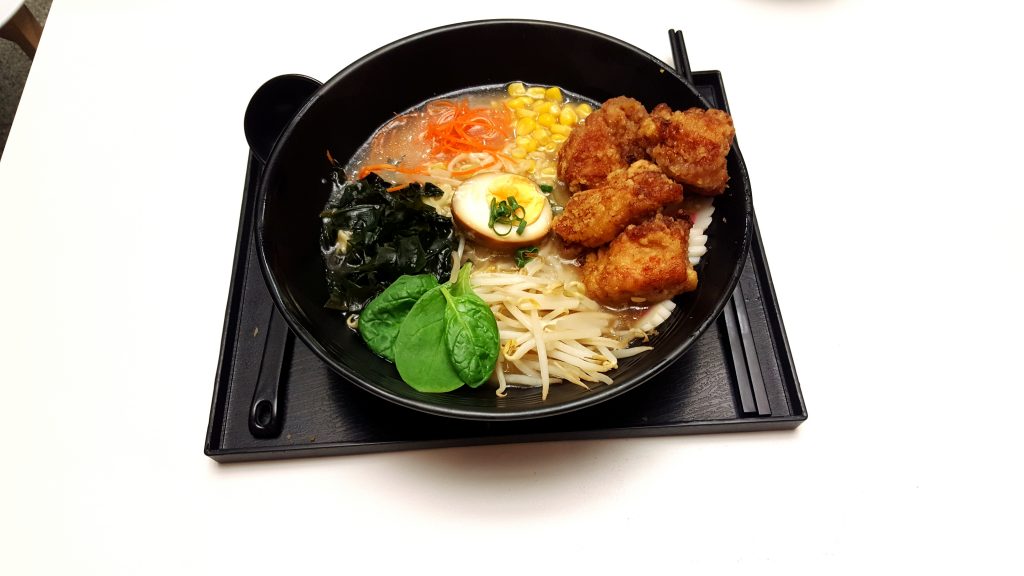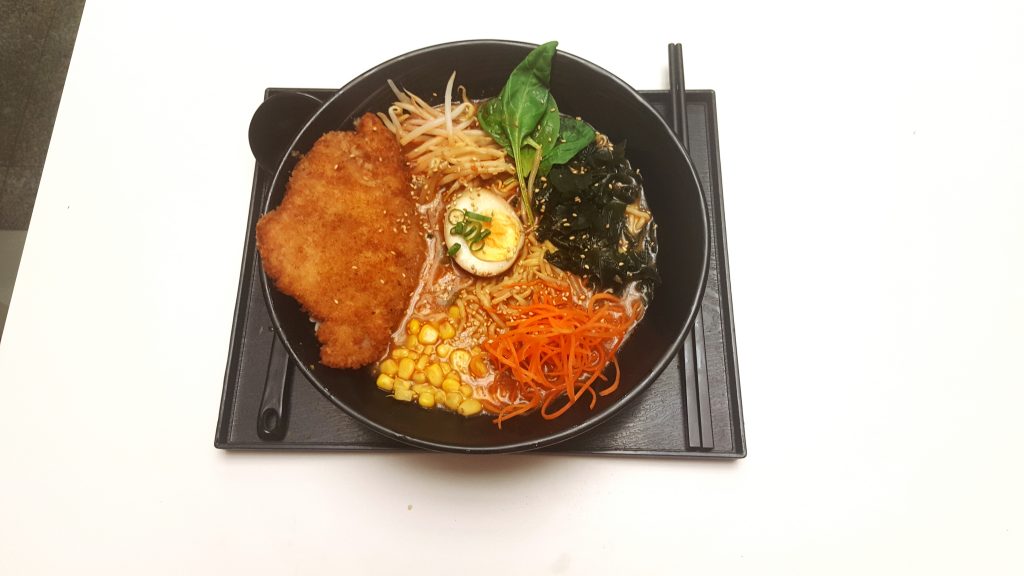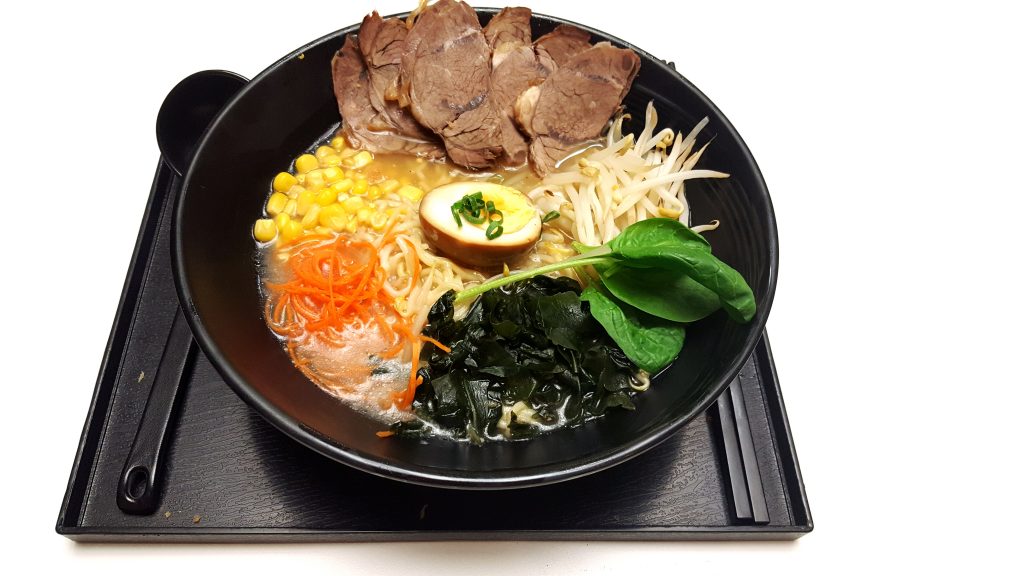 *Beignet de poulet (Kara Age)/Crispy fried chicken
P1 Ramen Shio                         13.00
  au bouillon de sel marin/Light sea salt
P2 Ramen Shoyu                     13.50
au bouillon de sauce soja/light soya sauce 
P3 Ramen Miso                     13.50
au bouillon de pâte d'haricot/Yellow bean sauce      
P4 Ramen Kara Miso                14.50
au bouillon de piquant/spicy,strong taste      
P5 Ramen Tonkotsu                 14.00
au bouillon d'os de porc      /Pork broth     
*Porc pané / Crispy fried pork
Z1 Ramen Shio                     13.50
au bouillon de sel marin/Light sea salt
Z2 Ramen Shoyu                 13.50  
au bouillon de sauce soja/light soya sauce
Z3 Ramen Miso                     13.50
au bouillon de pâte d'haricot/Yellow bean sauce
Z4 Ramen Kara Miso              14.50
au bouillon de piquant/spicy,strong taste      
Z5 Ramen Tonkotsu             14.00
au bouillon d'os de porc      /Pork broth
*Roti de boeuf / Roasted beef
B1 Ramen Shio                     14.00
  au bouillon de sel marin/Light sea salt
B2 Ramen Shoyu             14.00  
au bouillon de sauce soja/ light soya sauce       
B3 Ramen Miso                 14.00
au bouillon de pâte d'haricot/ Yellow bean sauce
B4 Ramen Kara Miso            15.00
au bouillon de piquant/ spicy,strong taste
B5 Ramen Tonkotsu            14.50
au bouillon d'os de porc/Pork broth                                        
*Tempura Scampis/Shrimps tempura
P1 Ramen Shio                     14.50
au bouillon de sel marin/Light sea salt
S2 Ramen Shoyu                 14.50 
au bouillon de sauce soja/ light soya sauce      
S3 Ramen Miso                 14.50
au bouillon de pâte d'haricot/ Yellow bean sauce
S4 Ramen Kara Miso        15.50
au bouillon de piquant/ spicy,strong taste     
S5 Ramen Tonkotsu            15.00                                    
 au bouillon d'os de porc/Pork broth                 
* Végétarien / Vegetarian
V1 Ramen Shoyu       13.50
au bouillon de sauce soja/ light soya sauce 
*Tous nos Ramen et menus Ramen sont aussi disponibles avec des nouilles UDON
*All our Ramen and menu Ramen are also available with UDON noodles
Spécialité japonaise/Special Japanese dishes
1 Soupe miso / Miso soup                                                                         3.50
2 Soupe aus raviolis japonaise (farcies de poulet et cresson)
Japanese raviolis soup (with chicken and cress)                                    5.50
3 Soupe piquante (tofu,natto,surimi naruto,algue,épinard,scampis)
Spicy soup (toufu,natto, naruto surimi, seaweed,spinach)                  4.80
Entrée / Starter
4 Boulettes de scampis farcies au fromage
Crispy shrimps dumplings stuffed with cheese                                      6.00
5 Mini nems scampis
Mini springrolls with shrimps 10pc                                                         6.00
6 Yakitori de poulet (brochettes de poulet) / Chicken skewers3pc    6.00
7 Brochettes de scampis au curry rouge
Red curry shrimp skewers 2pc                                                              7.00
8 Gyoza (raviolis japonais grillés)/ japanese chicken ravioli 6pc           5.80
9 Beignets de poulet (Kare Age)
Japanese crispy fried chicken dips 6pc                                                    6.50
10 Raviolis aux crevettes à la vapeur (Ha Kao)
Steamed shrimps ravioli 4pc                                                                   5.20
11 Bouchée de porc à la vapeur ( Siu Mai)
Steamed pork ravioli 5pc                                                                           5.20
12 Triangles de poulet façon japonaise
Japanese style chicken with bamboo leaf 6pc                                       7.50
13 Tempura Scampis / Tempura shrimps4pc                                         7.50
14 Takoyaki ( Boulette de poulpe frit) /(Octopus ball fried) 4pc           6.00
15 Brioches au porc grillé/Grilled pork dumplings                                   5.50
16 Salade choux / Cabbage salad                                                             3.50
17 Salade d'algue / Seaweed salade                                                          4.50
Plat principal/Main courses :
18 Nouilles à la façon Happy sushi ( sauce brune, boeuf, légumes variés)
Noodles Happy sushi (with spicy beef sauce and vegetables)           13.50
19 Riz parfumé au boeuf style japonais (gyudon)
Rice with spicy beef sauce and vegetable                                              13.50
20 Scampis " Beautifuls" (sauce beautiful base de crème et surimi)
Beautiful style shrimps(with white creme and surimi,slightly sweet)17.50
21 Cuisse de poulet grillées accompagné de salade d'algues
Grilled chicken legs with a seaweed salad                                             14.50
22 Faux-filet de boeuf au curry avec ses légumes
Sirloin beef with curry sauce and vegetable                                            14.50
23 Fondue japonaise/Japanes Hot Pot                                                                    26.00/pers
-Entrée: Gyoza
-Boeuf, nouilles japonais, tofu gélé et les légumes de saison dans un bouillon à        la base de miso bien assaisonné.
-Starter: Gyoza
-Beef, shrimps, noodles, tofu and vegetables served in a miso broth.
* Tous nos plats sont accompagnés d'un bol de riz blanc
 All our dishes are served with white rice.
Maki 6pc
M1 Saumon / Salmon 4.50(5)
M2 Thon / Tuna 5.00(5.12)
M3 Saumon roll fromage frais / salmon cheese roll              6.00(5.12)
M4 Saumon épicé /spicy salmon                                             5.00(5.12)
M5 Thon épicé / spicy  tuna                                                      5.50(5)
M6 Concombre /cucumber                                                       4.00(12)
M7 Avocat /avocado                                                                                                          4.50
Spring Roll 6pc
SR1 Saumon avocat / salmon avocado                                                                              6.00 (5)
SR2 Thon avocat / tuna avocado                                                                                6.00(5)
SR3 Concombre fromage frais /cucumber cheese                                                            5.50(12)
SR4 Poulet avocat épicé /chicken avocado spicy                                                           6.00(1.2.12)
California 6pc
C1 Saumon avocat / salmon avocado                                                                              5.80 (5.10)
C2 Surimi concombre masago /surimi cucumber masago                                           5.30 (6.12)
C3 TNT  ( concombre, thon, masago, épicé) / spicy,cucumber, tuna, masago, 6.00(6.1.10.12)
C4 Dynamite ( concombre,saumon,masago,épicé) / spicy,cucomber salmon,masago, )
6.00 (10.5.12)
C5 Crevetteépicé / spicy shrimp                                                  6.50 (6.1.10.12)
C6 Saumon cuit concmbre / boiled salmon cucumber                                                  5.50(5)
C7 Thon avocat / tuna avocado                                                                                         5.50(5.10)
C8 Tempura  Scampis / tempura shrimp                                                                       6.50(6.1.10.12)
C9 Poulet concombre / chicken cucumber                                                                       5.80(1.12)
C10 Thon cuit avocat/boiled tuna avocado                                                                      6.50(5.10)
C11 Mango Tango (sauce épicé)/spicy sauce                                                                 6.90(1.12)
C12 California Homard épicé
(homard,masago,concmbre,épicé) / lobster,masago,cucumber,spicy 8.00(2.6.12)
Nigiri 1pc
N1 Saumon / salmon                                                                                                           1.90(5)
N2 Thon / tuna                                                                                                                         2.20(5)
N3 Crevette/ shrimp                                                                                                           2.20(6)
N4 Saumon cuit sésame / boiled salmon sesame                                                                2.20(5)
N5 Thon cuit sésame  / boiled tuna sesame                                                                       2.40(5)
Tulip 1pc
T1 Sushi tartare saumon/ Sushi salmon tartar                                                                2.30(5.12)
T2 Sushi tartare thon/Sushi tuna tartar                                                                               2.50(5.12)
T3 Tulip concombre cheese/ Tulip cheese cucumber                                                          2.00(4.12)
Temaki 1pc
Te1 Saumon Avocat  / salmon avocado                                                                               4.70(5.10)
Te2 Thon avocat/ tuna avocado                                                                                       5.00(5.10)
Te3 Crevette concombre épicé / spicy shrimp cucumber                                            5.50(6.12)
Sashimi
Sa 1 Saumon/ salmon 15pc                                                                                                    14.50(5)
Sa2 Thon / tuna15pc                                                                                                           15.50(5)
Sa3 Saumon & thon /salmon & tuna 16pc                                                                        15.50(5)